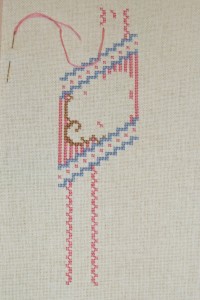 This time of year I find myself sitting in high-school gyms watching and waiting at volleyball tournaments that last just about forever. My daughter decided it was okay for her mom to be there, however, be discrete. So I found myself looking for a small project to work on when her team wasn't on the court.
The perfect small project I chose was a the Ribbons and Lace Bookmark from the Kooler Design Studio booklet Hold That Thought Bookmarks. The chart is easy to use and even in stretcher bars, it is very portable. I've stitched bookmarks before, but they were flimsy and the back showed all of the thread ends. Each bookmark is adhered to a felt backing with a iron-on bonding material so it has a nice finished back and it is more substantial than most bookmarks.
The book features 37 different designs that range from elegant to out-of-this world. Now the biggest problem I have with portable projects is deciding which bookmark I want to stitch next.