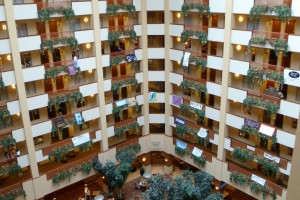 February 22, 2011

Basha and I just got back from the TNNA in Nashville. The Trade Show was timed just perfectly to avoid the huge snow storm from the week before so we enjoyed beautiful Spring weather while were there.
When we first learned the show was going to be held in hotel rooms, we were skeptical. Instead of having the show in a convention center showroom, the event was held in a large Embassy Suites hotel with individual suites acting as the exhibitor booths. All of the suites opened into a nine-story atrium with a huge skylight for the ceiling. Banners advertising each company hung from the ivy covered balconies. Three glass elevators provided the best views of the trade show and a really convenient ride to the upper floors. The atmosphere was warm and intimate. We were pleasantly surprised at the unusual format.
The TNNA Nashville featured mostly cross-stitch work and accessories. Lots of over-dyed floss in all kinds of textures and types were in abundance. We found things we really needed that until the show we didn't even know existed. Scissor fobs and "orts" holders. The latter is a thing where you can put your little pieces of thread or yarn that's too little to use. It stays near your work space until you get a chance to throw the pieces into the garbage. Who knew there was a name for those things? Much less, little containers for them? We learn something new every day.